PASTORAL LETTER
and Family News
From Revd Jane Wild
Dear Friends.
I recently came across this surprising piece of information. In 1920, the US Postal Services said that children could not be sent by parcel post. Prior to this it was the cheapest way to travel for children weighing less than 50 pounds.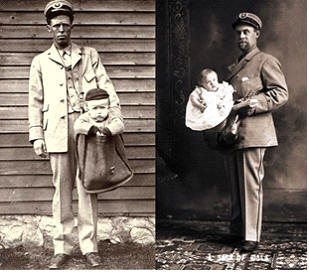 When the US Postal Service began parcel deliveries in 1913 it wasn't long before some ingenious parents cottoned on to the idea of mailing their children. A 10-month old baby boy, the child of Mr. and Mrs. Jesse Beauge from Batavia, Ohio, was posted for the cost of 15c in stamps, though his parents did insure him for $50. In the most famous case 5-year-old May Pierstorff was mailed via train from her home in Idaho, the stamps stuck to her coat.

The practice is not as callous as it first appears, postmen were trusted local officials whom rural people usually knew personally. May Pierstorff was herself sent by a cousin who was a postal clerk. Nevertheless the US Postal Service tried to shut the practice down and had to issue a directive that no humans were to be carried in the mail.

I wonder if what we do now, in a hundred years time people will think ridiculous?

We have recently been in circumstance that, in the future, may be described as surprising with people confined to their homes and all businesses restricted. We have rediscovered who to look to for help, NHS staff, and supermarket online pickers to name just a few. Trusted because in the face of difficult times they continue to do their jobs, as have many of you. I have a big vote of thanks for all of you who have kept in touch with members of the church family, ensuring people are safe, not in need and supported. We may not be able to worship together, but we can still be the disciples of Christ, who is at work in the world.

The idea of children being delivered by post is ridiculous; so is the idea of a church existing without buildings. We are doing just that at the moment. How often I have heard passionate disciples say, "think of what we could do if we did not have to" Now is the chance.

One aspect of the story I like is that it demonstrates human initiative. As we begin to return to our normal activities we need to consider which things we have had to innovate should we keep and how can we learn from the events of the last few months to move forward.

Whatever happens I am certain that the same God who has led us, guided us and guarded us, will be with us for ever.

God Bless,

Jane

FAMILY NEWS
FUNERALS
Sadly during the past few months we have shared in the funerals of these Church Members
Jean Simmonds, Justin Morlese, Gordon Hinnells, Kath Boardman. Muriel Heane and June Robimson.